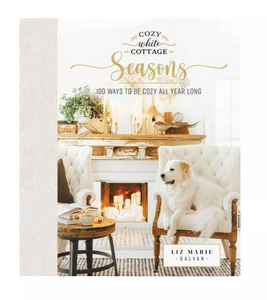 Whether you want to create a cozy winter wonderland in your living room, a blooming summertime welcome on your deck, or an autumn refuge by your fireplace, Liz Marie Galvan's 
Cozy White Cottage Seasons

 
gives you the inspiring photos, DIY ideas, and fun recipes you need to feel at home on any budget and in every season.
Do-it-yourself interior designer and popular blogger Liz Marie Galvan helps you create space to snuggle up, stretch out, or kick back at home so you can focus on what matters most during the holidays and every day. Following the popularity of Cozy White Cottage, Cozy White Cottage Seasons is a beautiful, full-color photography holiday lifestyle book with easy-to-do, practical tips to make your home a welcome haven—from New Year's Day to spring, summer, fall, and all the way through Christmas.
Cozy White Cottage Seasons equips you to:
Create cozy celebrations, traditions, and memories indoors and out
Repurpose furniture and decor for every season
Cultivate your flair for vintage, modern, farmhouse, or a unique style all your own
Design a hot cocoa bar—and make other seasonally cozy recipes
Store and manage holiday clutter
And so much more!
In addition, you'll find fun ideas to celebrate and decorate for:
Christmas
Thanksgiving
Halloween
Fourth of July
Father's Day and Mother's Day
Easter
Valentine's Day
And any special gatherings
Pages:240
Product dimensions:7.90(w) x 9.10(h) x 0.90(d)